Wharton County Historical Museum and 20th Century Technology Museum, 3615 North Richmond Road, Wharton, 979-532-2600.
African-American Museum – Located at 609 Palacios Street, El Campo.
El Campo's newest addition of history and time-worn artifacts is the El Campo African-American Museum. Their vision is not just to preserve their culture and heritage, but also to promote and boast the pursuits of African-Americans nationwide.
The museum has received contributions that cater to all aspects of the American heritage. It offers a display on major African-American inventors and their creations. It will help to educate its visitors on blacks' technological achievements which do not always receive significant recognition in the textbooks.
For more information on the museum please call the Chamber at 979-543-2713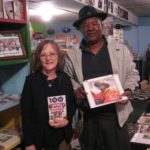 Other Museums in Wharton County:
Danish Heritage Museum of Danevang —153 CR 426, southwest of El Campo in the small community of Danevang, 979-578-0808.
Egypt Plantation Museum — located at 11914 FM 102, Egypt (between Wharton and Eagle Lake), 979-533-0096.